Koei
is a video game company founded in 1978.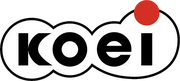 List of Video games made by Koei
Edit
Action Games
Bladestorm: Hundred years of war
Croc (series)
Chrimson sea
Destrega
Dynasty Warriors (series)
Mystic Heros
Fist of North Star: Ken's Rage
Ni-ho
Prey the Stars
Stop that Roach!
Winback
Warriors: Legends of Troy
One piece
History Simulation
Liberty or Death
Romance of the Three Kingdoms
Uncharted Waters
Rise of the Phoenix
Genghis Khan (series)
Nobunaga's Ambition series
Strategy games
Romance of the Three Kingdom
P.T.O Pacific Theater of Operations
Gemfire
Naval Ops
Operation: Europe
L'Empereur
Sports Games
GI Jockey
GI Jockey 2004
Fatal Inertia
Yanya Caballista: City Skater
Winning Post
Non-Romance Games
Ad blocker interference detected!
Wikia is a free-to-use site that makes money from advertising. We have a modified experience for viewers using ad blockers

Wikia is not accessible if you've made further modifications. Remove the custom ad blocker rule(s) and the page will load as expected.