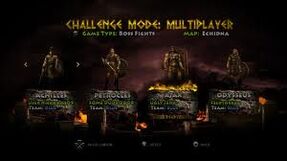 Multiplayer for Warriors: Legends of Troy, is unlike any other. For exemple you can ues cheats on this but you unlock the cheats by completing the game on a certain mode. (example, beat the game on easy. And you get super strength)
Cheats for Warriors: Legends of Troy Multiplayer
Edit
Successfully complete the game on the indicated difficulty to unlock the corresponding cheat:
Super strength

Easy

Big head mode

Normal

One hit kills with double money

Hard

Infinite ammunition

Expert
For more cheats: http://www.cheatcc.com/xbox360/warriorslegendsoftroycheatscodes.html#ixzz1tLDeiTRb
You can play up to 4 players on this
Ad blocker interference detected!
Wikia is a free-to-use site that makes money from advertising. We have a modified experience for viewers using ad blockers

Wikia is not accessible if you've made further modifications. Remove the custom ad blocker rule(s) and the page will load as expected.